VS-GX Fixed Position Rotating Soot Blower
VS-GX Fixed Position Rotating Soot Blower is designed for applications such as stationary, marine, waste heat boilers, and direct-fired oil-heater applications. They are also sometimes used in the economizer section of larger boilers to remove low temperature deposits.

FEATURES

Mounting arrangements can be either vertical or horizontal.
Blowing medium can be either superheated steam, saturated steam or compressed air.
The blowing pressure can be changed by merely moving the adjustable pressure disc on the valve.
A unique floating disc design allows for proper sealing of the blowing medium during temperature change.
The blowing element is connected by a flexible coupling so as to allow for expansion of the boiler and allow free movement of the element during operation.
A floating seal or positive pressure wall box is provided to prevent boiler gasses from escaping from the boiler.
Blowing art 90° ~ 335°
Lance rotary speed 2.5r.p.m.
Blowing pressure 0.8 ~ 1.5Mpa
Efficient blowing radius 1 ~ 1.5m
Blowing Scope < 4.5m
Nozzle number & bore According to actual condition
Medium consumption 30 ~ 100KG/min
Electric motor 1.18KW/3P/50Hz
Weight ~ 75KG
VS-GX soot blower is mainly made up of gooseneck valve, tubular axle, lance, speed-down drive mechanism, arched panel, electric control box, furnace wall interface device. Bearings are mounted onto the boiler tubes at spacing according to the flue gas temperature for support of the blowing element. The element materials come in Dialoy, Calorized, and plain steel depending upon again the flue gas temperature.
VS-GX Rorary Soot Blower General Drawing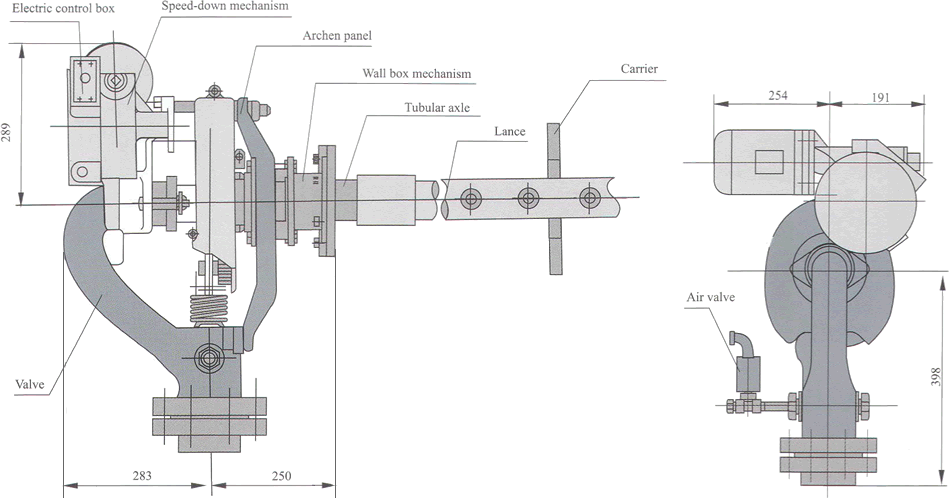 Furnace Wall Interface Device