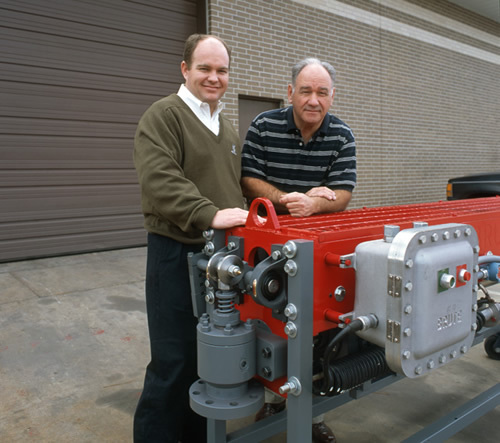 Boiler Equipment is owned and operated by the Holden Family in Houston, Texas. Shown are Wayne Holden(right) and Mike Holden( left), who are standing by their Model MF-56. This was the first of many soot blower designs that they created.
Wayne Holden, the founder, started his soot blower career with Diamond Power in 1967 as a service engineer in Louisiana and later went on to represent Diamond Power, Copes Vulcan, and Hopkinsons in sales. He later was named Vice President of sales and marketing for Bergemann USA during the late '80s and early '90s. After leaving Bergemann USA, he designed many different soot blowers and has patents on quite a few of them.
Mike Holden started in the family soot blower business as a CNC programmer and actually made a lot of the parts that went into their designs. Mike has a lot of different skills and talents as he is a certified welder and class A mechanic in addition to being considered a first-class machinist. He now is Vice President in charge of the company's operations.